---
Free returns accepted if product not as described or faulty.
Full Refund if you don't receive your order due to lost mail.
Secure Payments , protecting your information and purchase.
Product Description:
At 5Diamond Painting, we believe that nothing is as unique, personal or well-received as something that's been lovingly handmade. That's why we create this 5D Diamond Painting which will make you feel inspired and excited about Arts, Crafts, Sewing and your 3D diamond painting projects.
Uses:
5D diamond paintings perfectly decorate your office, living room, dining room, bedroom, bathroom, study, hallway, bar and so on. At present, it is the most popular DIY home decoration, which makes your house lively and full of home-like warmth., unique gifts.
Decorate Your Life :
It do help on reducing stress, increase patient. What's more, you can enjoy more family time for parent-child cooperation, could greatly strengthen relationship between family members and friends.
5D diamond painting is also a best choice to send your family and friends as a gift to express your best withes.Such as Christmas gift, birthday gift, festival gift ,wedding giftand so on. The products do not distinguish between gender and age, suitable for men, women and children. The DIY spirit pays more attention to an attitude to life, a kind of pleasant leisure pleasure.
Diamond is the main material for making diamond paintings. It is a representative of the perfect mosaic art form. Use the sticky pen to finish it!
Product Specification:
Material: Resin
Frame: No
Pasting Area: Full
Package:
1 set with diamond painting tools as pictures shown
Shipping Worldwide:
Fast shipping to the United States (15 - 35 days)
Please allow 3-5 weeks for delivery to Canada, United Kingdom, Australia all European Union Countries.
Please allow 4 - 6 weeks for delivery to the rest of the world.
How to choose a canvas size?
The larger the size, the better the pixels, the richer and clearer the details, so the better the restoration. Make sure the canvas width is at least 40cm for best results. You can also customize the size if you want a larger one.
How to operate the diamond painting
The image below shows a comparison of how different sizes will look when finished.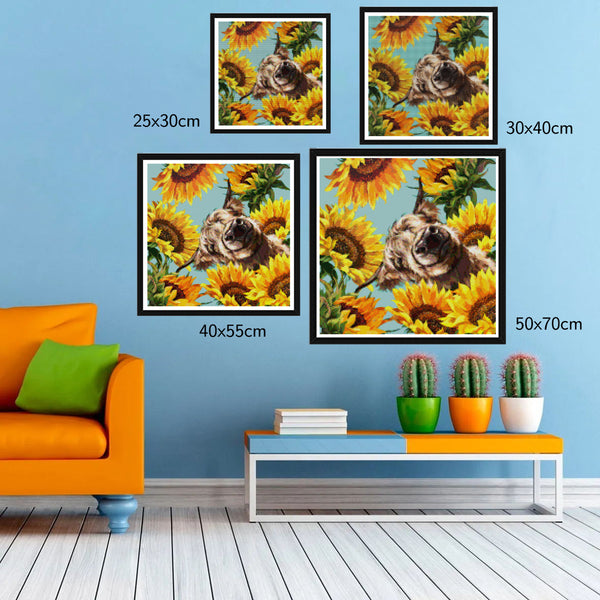 Who can do diamond painting?
Everyone can! There are no right or wrong ways to start a diamond painting project.
If you are hesitant to start your first one because worrying about mishaps or how to complete? No worries, you need to relax and just go with it. Everything is totally included in the package to get started.
Still need more tips before the start? Read Here
Does each diamond art picture come with its own set of drills?

Yes each diamond art has its own set of drills there are number for each canvas picture just make sure you use the right drills for each canvas check before you start your diamond
Is the film one long sheet on the canvas?
Yes, the plastic film covers the canvas of this diamond painting kits for adults. You can cover the diamond painting with the plastic sheet when not working on it. And just lift up the plastic sheet, then you can continue working.
Does this diamond art need to be covered when not working on it?
All diamond art needs to be covered,when not being worked on
What are the dimensions of this item?
More than just a store
Join our Facebook community of obsessed diamond painters, it is powerful and growing by thousands! Here, you can discover expert tips and tricks and proudly display your new work.
Now, hurry up-your tribe is waiting!
*All pictures are for reference only, the final result may be different.